Hell-O & Whalecum to the 93rd edition of HSN!
- Oh boy, this edition of HSN is gonna be a fucky one! First, we lost the Pimp of the Nation, Hugh Hefner! Hefner, needs no introduction! He owned Playboy and put all other motha fuckas to shame! He died at the age of 91 on the 27th of September. May he Rest In Peace and pimp in the afterlife!
- Another one down! We also lost Tom Petty the next week! Tom Petty was a musician that played for "Tom Petty & The Heartbreakers" if you're a uncultured swine. At the age of 66, Petty died of Cardiac Arrest on October 2nd. Hopefully, he is Running Down A Dream in Heaven. Rest In Peace.
- Final death on our list is Ralphie May. 2017 must have the goddamn Death Note or some shit, cuz Niggas are dyin' left and right! Anyway, May was a Comedian and a very heavy man. He died at the age of 45, just a few days after Petty from the same thing, as well as battling pneumonia for several weeks. If y'all can, please check out his Netflix specials. May he Rest In Peace.
- WWE PPV, Hell In A Cell just concluded and it was BALLIN'! Baron Corbin is now the US Champion, defeating AJ Styles and Tye Dillenger in a Triple-Threat match. The match between Kevin "Pickleboy" Owens and Shane O.Mac was the match of the night! I was surprised both could go in the ring like that, especially for a HIAC match! Won't spoil anymore, go watch the shit on the Network!
- Finally, I would feel bad for not including this. The Las Vegas shooting. We all know what went down, but tho those who don't here's the basics. On October 1st, during the last HSN writing, a man named Stephen Paddock shot a shit ton of people during the Route 91 Harvest music festival from his Hotel room, killing 58 and injuring 489, surpassing last years Orlando Gay Club shooting. As we've seen on the News, everyone was ducking for their lives, but there was a Hero among them.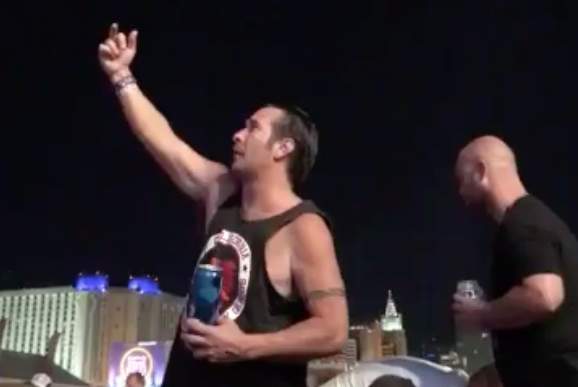 As well as many others. There are also a ton of Conspiracy theories of if he was a pawn or if there's more to the shooting than what we know. Paddock did not have a major crime record, aside from a minor traffic violation. His motives were still unknown, but the Police have dismissed the theories that he was part of ISIS. It should also be noted that his Father, Benjamin Hoskins Paddock, was on the FBI's Most Wanted list from 1969 to 1977, but was not a part of Stephen's life.
If I can put a small rant in, you know what's also a tragedy? The fact that when a shooting happens, every Politician and News organization shove their agenda about Gums down our throats. Listen fuck dicks, innocent people just died and you wanna sit their on your goddamn High Horse and bitch about Guns when the bodies haven't gone cold yet? What kind of a fucking person are you?! If you use a tragedy to push your agenda, FUCK OFF TO FUCK OFFITY LAND YOU CUNTS!!! May the victims Rest in Peace.
This is the madassgamer and I'm gonna go back in time to stop these disasters!