Hi everyone.
Today I will tell you a story about a man from a worl far far away. In another galaxy, in fact!
His name is........ The Doctor, just The Doctor.
The Doctor is a Time Lord from the planet of Gallifrey. Gallifrey is positioned in the constellation of Kasterborous, at "galactic coordinates ten-zero-eleven-zero-zero by zero-two from galactic zero centre" (about 250 million light years from Earth).
You can see the planet bellow.
The Doctor travel around in a "TARDIS"(Time And Relative Dimensions In Space), a sort och space ship/time mashine that can travel to any place in space and time. And it's bigger on the inside (Y).
The TARDIS is supposed to change form to fit in to the environment, but something happened on one of The Doctors visits to Earth, and the TARDIS is now forever a Police Phone Box from the 1950's.
When The Doctor travels, he often found problems, like monsters and villians that want to take over the world, or just destroy the universe... You know, the usual stuff! The Doctor, with his faithfull Sonic Screwdriver(yeah, that's right! A SONIC screwdriver, awesome ey!?"), saves the day every time!
The Doctor also takes chicks with him on his trips. Often young as well! They are his companions. He doesn't like to be forever alone, so he take the first hot chick he meets with him around the universe.
Oh... There's one more thing... The Doctor is like... 900-1300 years old.. If not more! It's really hard to tell, because he is travelling all the time to places with different year-length and day-length... The latest claim of age is 907 years though. I think he's older.
Time Lords can be old! And another thing is... They can regenerate! When they die, or are badly hurt, they will repair themself, and change appearence completely. The Doctor have regenerated 10 times, he is in his 11th body in other words. And he have 2 hearts!!!
This Brittish TV-show have been going on since 1963. They are right now in the making of the 32nd season (6th series if you count from the new start and 2nd if you count from the latest regeneration)
There's also a movie. The 8th regeneration was a try to restart the show, but it failed, so thar Doctor only had one movie-length episode, that is called "Doctor Who: The Movie"(1996). The show started up again in 2005.
Now, some pictures!
Gallifrey, with one of the Time Lords in the foreground
The "10th Doctor"(David Tennant) with his Sonic Screwdriver
All the Regenerations so far
The TARDIS
Inside the tardis
A Dalek, they have no feelings and wants to kill everybody!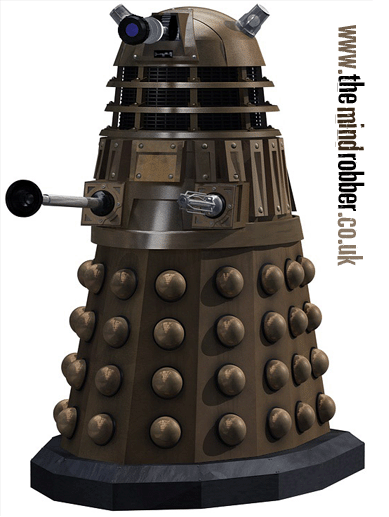 The Fourth Doctor likes jelly babies!!
Link
TL;DR
Doctor Who, do you watch it?
If not, do!